Alumni Network
The HarperCollins Author Academy Alumni Network exists to ensure students can continue their learning and connection to the publishing industry.

It also aims to provide key networking opportunities for all students.

The network is a community for underrepresented authors to continue the conversation, create critique circles, and meet industry professionals after completing the course.

Have a look at our Class of Spring 2022 Bio's below.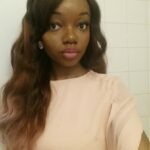 Ernestina Aggrey
Ernestina Aggrey is a Black British writer and a law graduate from Lancaster University. In addition to the HarperCollins Author Academy, she was mentored by Cesca Major after a mentor-mentee match on Black Girl Writers. Her short stories have been published in Brittle Paper, Sweetycat Press, Entropy and The Feminine Collective.

She was chosen as Brittle Paper's Writer of the Month (March 2022) for her short story, Castles Without Royalty. She is currently working on her first novel.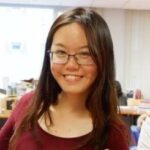 Bulwach Sereechaiporn
Bulwach (Tarn) is a freelance translator, writer, and editor of children's books from Thailand. She came to Europe to study a Master's programme in Children's Literature, Media, and Culture (CLMC) with universities in 6 different countries. Tarn has a dream to introduce diverse children's books from abroad to Thais and to tell the stories of people (especially children) in Thailand and SEA countries to the international community.

She is especially interested in paper engineering and children's "political" non-fiction in all forms from books, tv shows, applications, to games. So far she has written 5 activity books for preschoolers, 3 published short comics, and some unpublished picture books and novelty books in Thai and English.

She also wrote articles about films/series for a Thai magazine. Tarn is now writing reviews for foreign children's books and studies on children's literature on her Facebook page, and finishing her children's non-fiction project.
https://bsereechaiporn.wixsite.com/allaboutmyprojects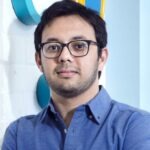 Vaibhav Singh
Vaibhav Singh is a designer and historian based in South London.

He is the founder of Contextual Alternate, an independent research initiative exploring the intersections of design, communication, technology, and history across Asian contexts. Vaibhav holds degrees in architecture, visual communication, typeface design, literature, and book history.

Pursuing a wide-ranging academic research career as well as a freelance design practice over a decade, he has worked as a graphic designer, book designer, and exhibition designer moving between Mumbai, Delhi, Panjim, Reading, and eventually in London, where he co-founded the design studio Typeland.

He is an all-round connoisseur of the printed word, with direct engagements extending all the way from the minutiae of fonts and printing technologies to the revitalisation of libraries and archives internationally, from the writing and crafting of new books to the care and preservation of rare old publications in individual or institutional collections.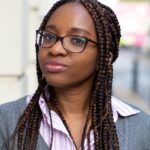 Kenechi Udogu
Kenechi is a Nigerian-born London-based fiction writer and architect who has self-published contemporary, sci-fi, horror and fantasy fiction and contributed stories to anthologies. Her writing centres on culturally diverse characters, particularly fantasy genre female protagonists who stand strong in challenging conditions.

Her short story, Locked, was longlisted for the 2021 Commonwealth Short Story Prize, and The Conversation, was shortlisted for the 2017 University of Nottingham Alumni Short Story Competition. She is an alumna of the HarperCollins Author Academy Spring 2022 Writing for Children course and the RCW and Knights Of 2021 children's publishing workshop for aspiring authors of colour. She belongs to the Megaphone Community which provides support for authors of colour who write for children or teenagers. She is also a contributor to Worldreader's digital library (a literacy global non-profit organisation).

Kenechi loves singing with choirs and hopes to one day figure out how to hibernate in winter.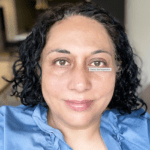 Nazima Pathan
It was only once she had her own children that Nazima found herself sharing the tales that grew out of a childhood spent dreaming in libraries and reading under the blanket after lights out.

She undertook creative writing courses with the Golden Egg Academy and was selected for mentorship by the author Maisie Chan as part of the 2021-2022 Megaphone Mentoring programme.

In 2021, Nazima was awarded the Faber FAB Promise Prize, shortlisted for the Penguin Write Now programme and accepted on the Harper Collins Author Academy programme.
When not writing children's fiction, Nazima looks after them as a Paediatric doctor and researcher, based in Cambridge, UK.

Aside from writing children's fiction, she is passionate about making science accessible and has written health news articles for the BBC as part of a media fellowship and undertaken talks for primary school children on topics related to science, health and wellness.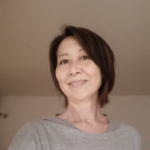 Haru Yamada
Haru is a global nomad who grew up in the US, Japan and Singapore. Formalising her love of languages in a PhD in Linguistics at Georgetown in Washington, DC, she continued her life on the run, living and working in the US and Europe.

Haru currently lives in London in a mixed-culture family run by a senior Bengal cat. The cat convinced her to quit writing about languages across cultures for academic publications during the 2021 UK lockdown, so she started a live weekend journal for friends and family centred around international holidays: threelittlepigs.space.

It was this blog that led Haru to the HarperCollins Academy where she's writing a book about listening. The book has the ambition of making us better listeners so that we can help the people who matter to us feel heard and move forward in their lives.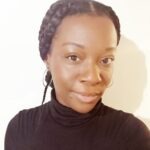 Tania Porteous

Tania graduated with a BA in Criminology and Youth Justice in 2007. Following four years as an officer and senior officer in the Prison Service (and four weeks teaching English in Thailand!), she decided to change careers and completed the Teach First ITT programme in 2012.

Since then she has relished working in the  education sector in a range of capacities including; teaching English Language / Literature / Media Studies; as a Professional Tutor for Canterbury Christ Church University (in partnership with Teach First) training and mentoring first year teachers; and developing and facilitating professional development sessions for teachers in India and Uganda who work in settings with limited resources.

Tania currently lives in South London with three year old twins, Isa and Zora. Together they are exploring and practising self directed learning and liberated living. This is the inspiration behind her writing: mothering while Black, in pursuit of liberation.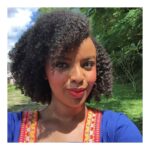 Osob Dahir
Osob Dahir is a Somali writer.

She's an alumna of Rewrite Academy, a writing programme that's designed to develop and support Black Women and Women of Colour.

Osob studied Creative Writing at City Lit and is a recipient of the Malorie Blackman Scholarship Award.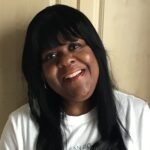 S. Elaine   Ewen
Elaine is a former primary school teacher with a B.Ed. Honours degree.

She is from the West Midlands and is now an aspiring writer, recently longlisted for the Inaugural "Jericho Prize for Children's Writing" in 2021 for one of her stories.

Elaine has always wanted to write picture books about children of colour, partially influenced by working within mainstream schools and at an African Caribbean Saturday school.
As a result, she appreciated the opportunity presented by the Harper Collins Academy for BAME writers and applied to further develop her writing skills.

During the course she has found the whole industry of 'creating' a book from its inception to completion, very fascinating and, in particular, the need to create strong character backgrounds and the emphasis on creating a 'clear' voice in the narrative.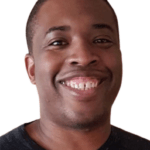 Mayo Agard-Olubo
Mayo is a writer and poet based in London.

He has been published in numerous anthologies and in the New Statesman. He writes fiction for children of all ages and is especially passionate about creating magical adventure stories for characters from backgrounds that have been historically ignored in children's literature.

He is one of the winners of "A Writing Chance", a writing award and development programme created by Michael Sheen and New Writing North and is a winner of a London Writers Award in the YA/Children's writing category. He was also longlisted for the inaugural Jericho prize.

He is currently working on a Young Adult novel that explores the themes of climate change and colonialism through a steampunk fantasy setting.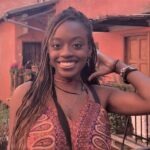 Soria Nicholson
Although an English Literature and Creative Writing student at the University of Birmingham, Soria has spent the past year studying abroad in Lyon, France. With a strong passion for travel and embracing diversity, this experience has allowed her to gain a new perspective on the world and the individual stories of its inhabitants. During her travels throughout Europe, she has also been building on her language skills. As well as her own experience with migrating, she is also the daughter of a Jamaican immigrant. For this reason, Jamaican culture greatly influences Soria's own writing which ranges from Literary fiction to dystopian.

Alongside continuing other hobbies in sports and fashion, Soria is planning on starting a blog to document her travels and achievements as well as discuss important topics. She is hopeful that after graduating, she will be able to propel in a career in the publishing and media sector.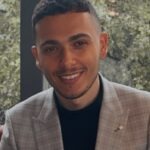 Andrew Theophani
Andrew Theophani is a YA Fantasy writer living just outside of London. When he was younger he lived in Cyprus before returning to England with his family. He first came up with the idea for his story, The Elementals – Prophecy of Darkness, at age 13 and wrote his first draft in one year. After graduating from the University of Birmingham with a first-class Hons in Psychology, he worked part-time as a consultant assistant psychologist and as a healthcare assistant in a psychiatric ward, helping to rehabilitate patients diagnosed with schizophrenia, personality disorder, OCD and more. It was during this time, whilst working through the pandemic, that restarted his passion for writing and inspired him to create complex and endearing characters.
He is now completing a PGCE in psychology with the hopes of teaching students about the importance of mental health whilst preparing his novel for publication. He loves interacting with other writers, especially those of the contemporary/epic fantasy genre.
The core messages of his story and his philosophy of life is that there is a hero within every one of us and we should encourage the people around us to find the magic in the mundane. 

Ttiktok @andydarcytheo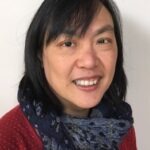 Yin F Lim
Yin is a Malaysian-born writer and editor who lives in the UK. She spent many years as a journalist writing other people's stories before deciding to write her own. She completed a Biography & Creative Non-Fiction MA at the University of East Anglia and now mainly writes about family, food and migration. Her creative non-fiction has appeared in Moxy, Porridge, Ghost Heart Literary Journal and Hinterland as well as several anthologies including Who Are We Now? A Collection of True Stories about Brexit and American Writers Review's Art in the Time of Covid-19 special issue.

Yin is also a co-editor of Hinterland magazine for creative non-fiction. She is currently working on a book-length project about her maternal grandmother, who emigrated from China to Malaya as a mui tsai (bondmaid) in the early 20th century. 

https://yinflimeditorial.wordpress.com/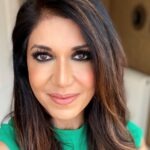 Zamard Zahid
Zamard is a second generation British Pakistani Muslim woman. Born in Coventry in the late sixties she moved to Glasgow at the age of nine where she now resides. Her love of writing and literature lead her to do a joint honours Masters degree in English and Scottish literature at Glasgow University. At twenty one she married and lived in a traditional extended household for ten years with three other families. It was after this period, three children later, that she went back to university to do a postgraduate in Teaching. This is where she developed her interest in race, ethnicity, inequality and power. Her awareness and knowledge in this area informed her twenty three years as a teacher using her role as a black teacher to instigate change in policy and practice in schools. She is part of "Pass The Mic" a panel of twenty women of colour writers who challenge exclusionary cultures within Scottish media. She left teaching in 2021 to pursue her passion for writing and spend more time with her granddaughter.
It is her belief that British Pakistani Muslim women do not have an authentic voice and continue to lack visibility in the mainstream. She finally feels comfortable to speak her truth about themes that are suppressed, misunderstood or diluted by the media. She hopes that subsequent generations of Muslim women can draw hope and courage from the story she wishes to tell and hope it will inspire women to speak their truth.
 Her writing explores themes of identity, race, culture and belonging. The context of her writing is drawn from her own experiences as well as many conversations with other Muslim women. The journey from childhood, adolescence through to adulthood examines central issues in Muslim women's lives such as identity, marriage, cultural oppression to liberation and hope. She also shed's light on taboo subjects such as sexual abuse, marital affairs and abortion.
Twitter: @zamardzahid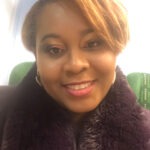 Adesuwa J.N. Avan-Nomayo
Adesuwa is a new writer, creative designer and Chartered Architect.  Born in Nigeria but raised in Brixton,  southwest London.  She is an avid lover of non-fiction books such as autobiographies, memoirs, and social issues books. Although, Christian fiction is another genre she enjoys reading.

Adesuwa has always wanted to write a book, and feels she has many stories to write about in the hope that her memoirs and life experience would be a blessing to her readers.

Joining the Harper Collins Author Academy has been an amazing opportunity that has helped her to understand, equip and delve into the world of writing and publishing.

Adesuwa is a strong believer in mentorship, and within her professional capacity as an architect, she spends time mentoring young design creatives on their path to architectural practice.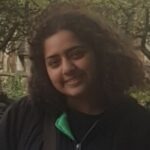 Lojain Maksoud
Lojain is an avid writer and storyteller, she is currently undertaking a Bachelors in Film with a focus on screenwriting. Her background as a Middle-Eastern woman inspires a lot of what she writes, including her current work-in-progress- a YA fantasy set in a mystical world based on ancient Arabia. In addition to novel writing, Lojain was chosen to write a script about a highschool heist, set to be made into a 20-minute short film in 2022. Being chosen for a spot in the HarperCollins Author Academy allowed Lojain to learn from professionals within the publishing industry, thus helping her develop her craft and grow as a writer. 

Nguyễn Thị Hương
Hương Nguyễn (Lucy), from Vietnam, studied linguistics at Hanoi National University. She was awarded a prestigious Fulbright scholarship in 2015 and worked at the University of Wisconsin. She now lives in Lincoln, UK with her husband, Colin and daughter, Anna. She is interested in writing and illustrating picture books for children. Her first illustration work was for her husband's book, "Clever Colin Goes to the Cinema."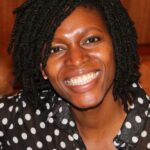 Yasmin Yusof
Yasmin is a London based writer of Malay heritage. She is a lover of all forms of YA, especially of the rom-com variety, and hopes to write fiction that can be a source of joy and comfort the way her favourite novels have been for her.

Yasmin is also a volunteer for PAWA, a charity that helps to provide education for teen girls all over Asia.

She is currently working on a YA novel about a teen girl from another planet struggling to fit in and who attempts to connect with her peers by emulating pop culture tropes. When not writing and volunteering, you can most likely find Yasmin rewatching her favourite sitcoms and trying not to consume too much caffeine. 

Hayley Griffin
Hayley's background is in photography and film, and she has a passion for storytelling, having written a number of scripts in both feature and TV formats.
 
Her pilot Offside made it into the top 30 submissions for the Voices of the Future 2021. It has also been read by a development producer at Tall Story Pictures through their November Script Callout for D/deaf and disabled writers and is the project she's most proud of creating.

Recently, Hayley has written her first children's book and has been accepted onto Wscripted, a development platform for content written by women. She has completed a screenwriting mentorship through ScreenSkills and has a place on Set Access: A UK Film Talent Development Programme from Creative Access and Guy Ritchie.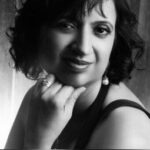 Alka Handa
Alka is a writer from London, who works for the NHS part-time. She was inspired to write her first YA novel after attending creative writing classes at City Lit three years ago. She hasn't looked back since, gaining a place as a mentee on the Megaphone Writer Development Scheme and most recently, a winner on the London Writers Award. She is drawn to writing about young adults due to her time working as a voluntary counsellor at ChildLine, where she re-encountered the challenges this time of life presents. In her spare time she enjoys walking in nature, bird-watching and writing poetry. She fell in love with fiction as a teen. Back then, it was impossible to find a protagonist from underrepresented communities in the books she read. Now she is writing the fiction she wanted to read as a child, and is excited by the opportunity to empower young people of all backgrounds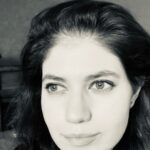 Aisha Farooq
Aisha Farooq is a writer and a freelance copyeditor based in Worcestershire. Since graduating from the University of York in 2011 with an MA in English Literary Studies, she has worked for several media publications, both print and online, as a content creator and a lead editor. Her most recent editorial role has been with a print travel magazine called Capra Falconeri Traveller, which celebrates the breathtaking culture and landscape of Pakistan. Aisha is passionate about creative writing in all its forms—from adult fiction to short stories, to screenwriting. Currently, she is working on a children's middle-grade book with magical realism undertones. It explores a child's capacity for boundless imagination and the light and dark traits that exist in all of us.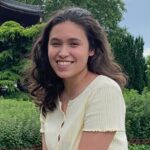 Isabella Boyne
Isabella Boyne is a half-Filipino, half-English writer that grew up in Hong Kong. She is currently a Philosophy BA student at UCL in her final year and works at Waterstones on the weekends.

She is working on her first non-fiction book that explores the lives of Filipino domestic helpers in Hong Kong. Isabella also writes poetry and had her poem published in UCL Publishers' Prize 2020.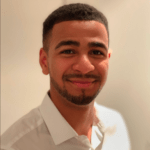 Tyler Mitchell
Tyler is an aspiring YA/NA Sci-fi & Fantasy writer from London. He is particularly interested by fictional worlds that are extraordinarily different on the surface, but grounded by relatable characters, themes and plots. Being a lover of film, TV & theatre from a very young age, Tyler has always been drawn to work and thrive in creative spaces. He is looking to work in film/TV or publishing once he finishes his Psychology Degree in Summer 2022. When he isn't working on his debut novel, you can find Tyler at a his local comic book shop, going to the cinema/theatre, playing video games, or rewatching his favourite films/TV shows for the 1000th time (you always notice something different)!

Having taken part in the first 2022 HarperCollins Author Academy fiction cohort, Tyler is excited to put the skills he has learnt to the test and keep dreaming up new story ideas.

"The HarperCollins Author Academy was a real eye opener for me. It was great to meet so many like-minded people who want to break into the industry, and learn more about what to expect on my publishing journey (hopefully)!"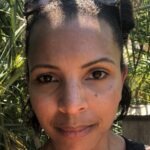 Emma Zipfel
Emma Zipfel is a writer, mother and teacher based in London. She is passionate about writing that reflects the diversity of children's voices and experiences. This is reflected in Emma's own writing as well as her roles as an Inclusion Ambassador for Inclusive Minds and as a freelance sensitivity reader for picture, chapter and middle-grade children's books.

In addition to gaining her a place on the HarperCollins Author Academy, Emma's writing has been longlisted for the London Writer's Award 2022 and a place on the RCW x Knights Of children's publishing workshop. Emma is a member of the Megaphone community and is working on her first middle-grade novel.

When she is not reading or writing, Emma is probably drinking a strong coffee, running with friends or trying not to fall over on her roller-skates.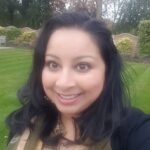 Seema Patel
Seema is an aspiring children's author.  She has a BA (Hons) and MSc in business related topics, that enables her to work in the corporate world based in London. 

She is passionate about writing stories for children that are full of wonder and fun that engage and inspire children.  She is currently working on a children's story.
With the knowledge and insights gained from the HarperCollins Author Academy which Seema thoroughly enjoyed with its amazing tutors and authors she plans to complete and publish both picture books and longer children's stories.
Yvonne Aryeetey
Yvonne is a wife and a mother of four children (two boys and two girls) who are her world.

She started out as a single parent and believes this life experience has moulded her into the woman, wife and mother she is today. She hopes to inspire mothers and always a great supporter of single mothers and married women alike.

As a Christian, she launched her first book on Amazon ' Power in a Mother's Prayer', a call for all mothers regardless of creed, class, race & religion to pray for their children.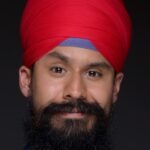 Hardip Syan
Hardip has a PhD in South Asian History from the School of Oriental and African Studies, University of London. He has taught and worked at the University of London, the British Museum and the Institute of Historical Research.  Hardip writes on Sikh and Indian history.  He has previously authored "Sikh Militancy in the Seventeenth Century: Religious Violence in Mughal and Early Modern India", a critically successful and ambitious work that explores a central topic in early Sikhism.  In addition, he has published numerous articles in peer reviewed journals including "The Sodhi kings in the Kaliyuga: The genealogy of the Sikh Gurus in the Bachitar Natak" and "The merchant gurus: Sikhism and the development of the medieval Khatri merchant family".
Nyla Khan
Edinburgh-based non-fiction writer Nyla Khan, is the founder and CEO of Universal Truth – an organisation dedicated to helping victims of forced marriage. Her debut book  'Privilege To Love' chronicles her lived experience of forced marriage and subsequent experiences of isolation and rejection from within her community.

Nyla has been interviewed by BBC Scotland, BBC Radio Scotland as well as The Scotsman and Edinburgh Evening News. She is an activist, campaigner and speaker she is frequently invited to mentor and advise at workshops and has advised and written guidelines around how to ethically report on violence against ethnic minority women.

She is inspired by cause-driven writing that has opened doors in terms of generating meaningful debate and impacting and modifying societal attitudes, such as 'The Female Eunuch' and 'Dear White People.'

Her ambition is for 'The Privilege To Love' to have a similar impact and to be an agent herself for social change.
Joylene De-Whyte
Joylene is a British writer who was born and raised in East London. She gained a Masters degree in Pharmacy and now works as a Clinical Pharmacist in the NHS.  She writes adult/ YA fiction her work explores identity, mental health , love , sexuality and race. In 2020 her work was short listed in the Penguin Random House #Merkybooks New writer's prize and in 2021 she was longlisted for  Hachette's Mo Siewcharran prize.  Aside from reading and writing , she enjoys exploring different cultures through travel. As an aspiring author her dream is to teach the world the beauty in different stories being told.