Alumni Network
The HarperCollins Author and Design Academy Alumni Network exists to ensure students can continue their learning and connection to the publishing industry.

It also aims to provide key networking opportunities for all students.

The network is a community for underrepresented authors to continue the conversation, create critique circles, and meet industry professionals after completing the course.

Have a look at our Class of Autumn 2022 Bio's below.
---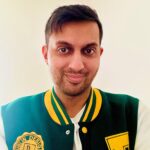 Iqbal Hussain
Iqbal Hussain's origin story started when he first wrote his name, and his dad told him he was destined to become an author. So naturally as any child would, he ran in the other direction, deciding to be a stand-up comedian. In between the stage and audience, he found fate was rather persistent. As he wrote over a thousand of his own unpublished short stories and novels, he knew he had to don his manuscripts as armour and face the world of children's literature, with the folklore and mythology from his Pakistani-based roots, he began to forge new tales.

Using his analyst background, he started a successful social media presence, garnering almost twelve thousand followers who regularly tune in to see his reading and writing-related content. Iqbal decided to listen to the universe and began writing in the third person, (including his incredibly modest bio), gradually moving on to writing new stories, in which the main characters are met with modern-day problems, such as running out of data whilst trying to save the world.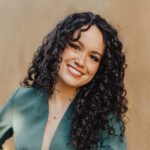 Olivia Gaughran
Olivia (Olly) is a Mexican-Irish writer, anthropologist, and visual artist living in Cambridge, England. Her writing explores the essential quirks of belonging, authenticity, grief, intimacy, forgiveness, and relationships. She particularly enjoys drawing out courageous voices, advocating fiercely for complex truths, and representing that truth well on the page. 
 
She graduated in October 2022 with an MPhil in Social Anthropology from the University of Cambridge after completing a Bachelor of Social Work degree in the United States. Her dissertation was an ethnographic analysis of forgiveness narratives from men and women incarcerated in British prisons, although her academic interests also include linguistic anthropology, normativity, decision-making in healthcare settings, and social understandings of the human body. 
 
She has been writing non-fiction essays and other think pieces for her personal blog, The Olly Project, since 2018, and her work has been published in Subjectiv (2020), a visual and literary arts journal. She found working with other writers very meaningful, and subsequently started working as a freelance editor in 2020. She has also worked as a youth counselor, accountant, and writing consultant, to name just a few! Olly is currently writing her first full-length memoir, which she hopes will be a companion to young women wading through the murky waters of love and loss. .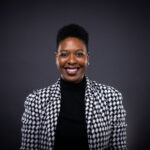 Medina King
Medina King is an award-winning interior designer and owner of MK Kids Interiors; designing children's spaces worldwide.
Spending her childhood on the beautiful island of Jamaica and learning English there, honed a passion within Medina for words and storytelling. Slang or the local dialect; broken English was never allowed.
Medina returned to the UK for secondary and tertiary education, where she graduated from the renown University of the Arts- London College of Communication, earning a BA Honors in Interior Design.
Finding a job in the interior design industry during the peak of the 2009 economic slump, as well as being a black designer with an accent, was proving to be difficult. Medina decided to create her own business and job for herself, which birthed of MK Kids Interiors.
Since starting the business from nothing, no capital, and no referrals, Medina has worked with various Middle Eastern Royal families, as well as dignitaries from other parts of the world. MK Kids Interiors most recently won the Herman Miller Design and Innovation Award for the Power list Black Excellence Award 2021. In 2018 she won the Theo Paphitis Small Business Sunday Award. Medina has made appearances on The Voice Newspaper, and BBC London radio. Medina has been a guest speaker at The Autumn Fair, The Ideal Home Show and most recently at Grand Designs Live in October 2022.
Despite all her achievements, in 2020 Medina realized that she was suffering from psychological abuse and had a traumatic divorce, which resulted in the loss of everything that was familiar. Medina wants to use her story to bring awareness to her community on domestic abuse and to empower women, who have been victims of domestic abuse, to move on and live successful lives.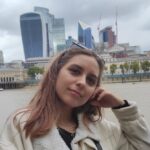 Sofia Gulvanessian
Sofia is a writer of fiction and non-fiction based in the South-East of England. While content to dabble in everything from university zine think-pieces to short stories and poetry, Sofia's lifelong passion has always been for sci-fi and fantasy. Sofia is currently working on their first novel, a queer high fantasy exploring themes of family, conflict, and historical legacy. After graduating from SOAS University of London with a degree in International Relations, Sofia currently supports young people to access school-based education to their full potential


Bianca Aye
Bianca is a British-Burmese writer, raised on dark fairytales and 80s action films in the North of England. Ten years after completing a  Biochemistry degree, she followed her dream of writing all the stories squashed in her head. 
She writes Young Adult fantasy and contemporary adult RomComs. When she isn't writing or reading, you'll find her cooking, falling out of Yoga poses or wasting time with a ridiculous (meticulous) skincare routine.
 
Bianca is currently working on a young adult novel about a girl fighting for her life in a hidden, magical London.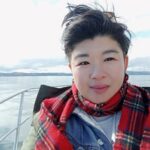 Susan Tong
Susan Tong is a writer and artist and a passionate queer woman born in Hong Kong, now living in Scotland with her partner, two playful black and white Tibetan Terrier x Havanese dogs in a house with more plants than one can shake a stick at!
Susan graduated from Scotland's very own, Glasgow School of Art during which she also interned for Glasgow Life's design team for the Commonwealth Games.
As a former tea lounge owner, she has appeared on television cooking her popular recipes and has joined in panel discussions, as well as written for local publications. The tea lounge has also been awarded 'best local eats', by The Guardian 2022 with active social media following on several platforms. There is a growing interest for her to write a culinary story-telling cookbook from her followers for which Susan is beginning to earnestly curate.
Whilst her career as a creative is still in its early days, Susan has won her place in a remote writers' retreat with eco-collectives to focus on her current book – a scrappy memoir navigating a dysfunctional family and the ongoing realisation in queer identity and otherness. Alongside this, she is also interested in writing fiction and has an ancient China to modern times vampire story in the works.
Currently, Susan has a painting on exhibition in Glasgow and has recently finished her work experience with a London-based queer women magazine with which she has published her first digital article.